Self-Storage Buildings for Sale
Climate-Control Self-Storage Buildings
The following will give you a better understanding of what a climate-control building accomplishes.
---
Demand is really increasing for Climate-Controlled Self-Storage buildings. More self-storage building locations are catering to affluent consumers and businesses with items that require a certain temperature range as well as a controlled humidity.
Within the last few years, American Steel Buildings has more and more of our clients asking about climate-controlled self-storage buildings. Our customers are now beginning to add at least one or more of these buildings to their already existing facilities.
Climate-control generally means that the steel and metal building's interiors are kept below 90 degrees when it's hot and above 40 degrees when it's cold. The interior humidity is kept below 65 percent to prevent mold and mildew.
One major difference between climate-control and regular self-storage steel buildings is the initial investment. Climate-controlled buildings are more expensive up front and take about a day longer than a regular self-storage steel building to construct. However, these types of facilities command higher rates and the owner will see a higher profit margin. Climate-control steel buildings will cost about 15% more per square foot but can be rented for about 25% more than regular self-storage.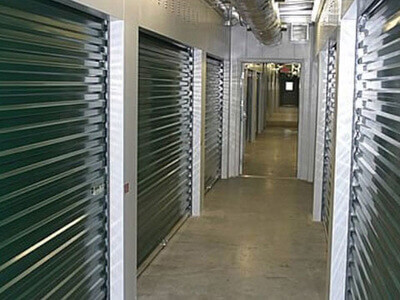 The cost is definitely worth the investment
Climate-controlled Self-Storage Buildings are something the market is well aware of. Offering those units at a reasonable but competitive price will keep you above your local competition.
Many businesses are searching for climate-controlled Self-Storage Buildings. These companies may need permanent or temporary climate-controlled storage, but don't want to spend money on expansion and maintenance — for instance, businesses like restaurants and pharmacies. Many of them have bulk items they need to store within a certain temperature range. Also, there are folks storing expensive electronics, antique or leather furniture.
One major difference between constructing a regular steel or metal self-storage building and constructing one with climate-controlled units is you will need a good HVAC contractor. This person will ensure your buildings have the proper air conditioning and heating units that are energy-efficient. This trend isn't changing any time soon, and it's up to the industry to keep up with the increasing demand.
Dry Self-Storage Buildings
This type of Self-Storage Building is just what the name implies. It normally contains various size buildings filled with various size storage units. The units normally range from 5X5', 5X10', 10X10', and 10X20'. The facility is normally fenced in with various security designs.
Self-Storage Building Conversions
Conversions involve transforming existing buildings into a self-storage facility. Warehouses, office buildings, factories, automobile dealerships, parking garages as well as other larger retail structures are good considerations for conversion. Keep in mind that if the facility is large enough, it can be converted into a Self-Storage Building facility. If you don't own one, look around for a vacant building that has either been vacant for a long time or one that no longer has a use.
This particular arena has really increased in the last five years, and the considered size has even grown. In the past, the average size of the buildings being converted to self-storage was 15,000 to 45,000 square feet. Today, many are 100,000 square-feet or more.
Many potential conversions are located downtown where entire communities of businesses are located. Most of them are already heated and air-conditioned and offer elevators and many other considerations. Plus, it doesn't take near as long to finish and occupy a converted structure as it takes to build from the ground up.
The best thing about these conversions is that the building already lends itself to installing high security. If you are going to offer storage for niche items such as paintings and wine, the entry design must be equal to an upscale hotel lobby.
Your building's exterior already lends itself to advertising with its size. A highly visible finish can really promote the business. Another plus is you can actually rent out one section while working on finishing out another area for the future.
Location is still the name of the game. Look for favorable traffic patterns and easy access to the facility. Zoning is generally not a problem as more owners and developers have opted for conversions instead of ground-up developments on raw land.
In many instances, municipalities will do everything they can to accommodate Self-Storage Buildings developers who want to convert an older building, even if there is a pre-existing zoning issue. They want these abandoned buildings filled, functioning, and owners paying taxes, rather than having an eye-sore. It is better all-around for everyone.
Another advantage of converting an existing building to a self-storage facility is that normally a building that is already zoned means considerably less time is spent dealing with building departments and zoning boards. This often results in a project being completed in 70 percent less time than normal.
Another factor to watch for is the elevators. They must be large enough and sturdy enough to carry both passengers and their goods. The elevator's door size needs to be appropriate. These elevators need to be situated within 150 feet from the farthest storage unit. Cost is to be considered as an elevator can run from $30,000 to $100,000, not including the shaft or installation.
A less expensive way is a Vertical Reciprocating Conveyor or VRCs. Also known as storage lifts, material lifts, freight lifts, or even cargo lifts, they can be placed virtually into any type of building, and they are very reliable with an established safety record. VRCs are about half the cost of elevators. However, if there is an American with Disabilities Act requirement to fulfill, or if the facility has four or more levels to service, a passenger elevator is advised. Keep customer convenience in mind at all times.
The HVAC system might need to be repaired or even expanded. This is especially true if you are offering climate control storage. When you find your building, consult with an experienced architect before you move forward.
There are dollars to be made with this conversion process.
RV & Boat Self-storage Buildings
RV and boat storage can make a great add-on to your storage business. Or even as a stand-alone facility, but it will require considerably more space than a regular storage operation. This makes your land costs more than you would need for a traditional storage business. Expect to need at least 275,000 square feet. This will accommodate all of the storage spaces as well as parking and other buildings.
Make sure your local market needs this type of facility. Are there campgrounds, lakes, etc. that will make this an ideal location? Location really does make or break your storage business. The constructions costs won't pay off if you don't have enough regular long-term renters.
Offer a variety of storage units in your facility. Most potential customers will want an enclosed unit for RV and boat storage. Enclosed units offer more security and sun & weather protection than open storage spaces or canopy spaces.
The cost of building a single basic canopy unit is around $20 per square foot for a basic canopy style. Enclosed spaces cost even more per unit. Don't forget security cameras, alarm systems, landscaping, permit fees, and payroll.
Charging the average market price will help you pay off the cost of each storage unit in a year or two.
Open Space Buildings
Sizes for open space storage range from 10X20 feet to 12X50 feet. This is strictly outdoor parking where individual spaces can be allocated on blacktop or by utilizing a marking system which offers basic parking only with no protection from the elements.
The storage area must be kept orderly to lesson the accident factor. Spaces should be numbered and assigned, with extra spaces allowed for overflow parking. This option also can be used where the facility is being developed in phases.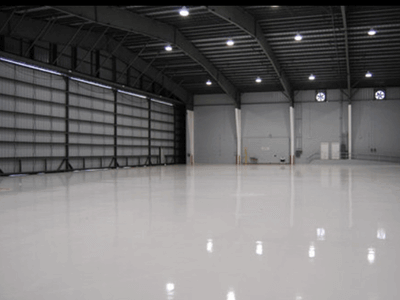 Metal Carport Buildings
These are open spaces with a roof. This metal carport style is the most profitable of the two. You can use both of these styles (open and covered) which offer the customer a choice depending on what they desire/want. The covered space is much more expensive to build, but you can charge a considerable amount for the benefit and the protection it offers.
Two-sided Self Storage Buildings
This option includes two-sided storage which has canopy storage with end walls. Three-sided storage will work to your advantage in climates with high wind and snow levels.
This type can be constructed in long rows within the facility or placed along the facility's perimeter wall or fence. It may be a long row of canopy storage with somewhat covered parking by enclosing the back and both ends. This works best when you can back the RVs into the space, and offers protection from the sun.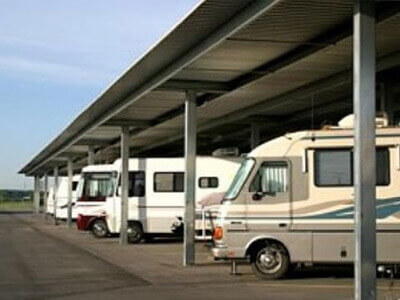 Indoor Space Buildings
This is a fully enclosed space, but it is the least efficient use of land. You could build a few of these for the more expensive RVs. It is more expensive to build but commands a high rent. You could also include some extra amenities such as climate control, automatic doors with remote openers, and furnish electricity.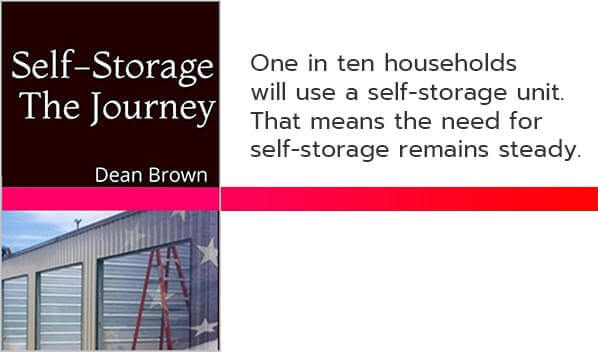 Explore The Possibilities

of Self Storage Buildings as a Business
The self-storage industry is still one of the fastest-growing and stable sectors of the United States commercial real estate industry over the last 50 years. According to the highly acclaimed Self-Storage Association, 1 in 10 households will use a self-storage building from time to time which tells us the need for self storage remains steady. American Steel Buildings has written a best-selling book on the Self Storage industry. Get your book on Amazon. This book, "Self-Storage, The Journey" will take you from your project's conception to completion.